Erika Vogt
---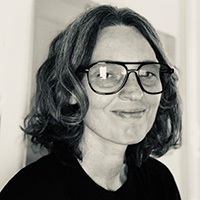 Program Advisor and Instructor, Teachers College, Columbia University.
ev2477@tc.columbia.edu
444 Macy
Erika Vogt (b. 1973, East Newark, NJ) is a sculptor who lives and works in Brooklyn, NY. Vogt's sculptures have taken the form of large-scale installations and collaborative theatrical performances. She works materially across mediums including time. Past institutional solo exhibitions have included the New Museum in New York, the Hepworth Wakefield in West Yorkshire, and Triangle France in Marseille. Her work has been exhibited and screened at institutions including Musée d'Art moderne de la Ville de Paris, MIT's List Visual Arts Center, the Metropolitan Museum of Art, Los Angeles County Museum of Art, the Whitney Museum of American Art, the Hammer Museum, the Museum of Modern Art, the Centre Pompidou, Anthology Film Archives, and REDCAT. Theatrical commissions of the Artist Theater Program include The Experimental Media and Performing Arts Center (EMPAC) at Rensselaer Polytechnic Institute in 2014 and Performa in New York City in 2015.
She was awarded a Teachers College Doctoral Fellowship.