"There's Inherent Value in Exhibiting Artwork": The Benefits of a Capstone Exhibition Experience
---
5 January, 2023
Faculty, friends, and family gathered in the Macy Art Gallery at Teachers College this summer for the opening night of "YOU ARE HERE", the capstone exhibition presented by the inaugural cohort of the M.A. in Studio Practice for Art Educators (Hybrid) program. For recent graduates Karyn Raz and Lauren Trager, the event marked the culmination of a year's worth of intensive learning and artistic development.
"The opening night was really special," said Raz. "After viewing everyone's art virtually for a year, I felt so proud to witness the outcome of all of our hard work in person."
---
What Are the Capstone Project and Exhibition All About?
The capstone project and exhibition are foundational components of the M.A. in Studio Practice for Art Educators (Hybrid) program's innovative curriculum designed to deepen and sustain the studio production of art educators. As students engage in studio courses throughout the program, they create art and receive invaluable feedback from faculty and peers that allows them to grow in their practice. At the end of the program, each student selects and refines a body of work from their time at Teachers College to create their individual capstone project. Our students then get to culminate the program by displaying each of their capstone projects as part of a cohort-run exhibition, at the Macy Art Gallery on campus or another space in New York City. This is an opportunity to share your work with a global audience while also expanding your artistic skills and portfolio.
---
Q&A With M.A. in Studio Practice for Art Educators (Hybrid) Program Graduates Karyn Raz and Lauren Trager
We spoke with Raz and Trager about their capstone experiences and the importance of creating and exhibiting your art.
Tell me about your professional background.
Raz: For the past four years or so, I've been teaching art full-time at a school for gifted children in Los Angeles, CA. Before that, my background was in illustration.
Trager: I've primarily worked as a scenic artist in a few different fabrication studios, and I've also been involved as a community organizer at an art center in Brooklyn. Before the pandemic, I was teaching art workshops and classes.
Why did you choose the M.A. in Studio Practice for Art Educators (Hybrid) program?
Raz: When I delved into teaching full-time, I was struggling to find a community of other art teachers, so the cohort-based structure of the program was really appealing. I was also drawn to the hybrid model, since it allowed me to finish the program while continuing to work.
Trager: I liked the idea of pursuing a program based in New York, while also being able to connect with artists throughout the country. I applied for the program during the pandemic, and I think a lot of the students in our cohort had a yearning for community during the solitary time.
How would you describe your capstone project?
Raz: "Exquisite Doodles" was inspired by a drawing activity that I was doing with my students as a warm up. It started as a loose doodle, and from there I began to incorporate various patterns, colors, textures, and gradations to generate a visual language. Each new doodle built onto the last one, in series of threes.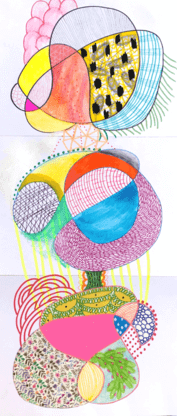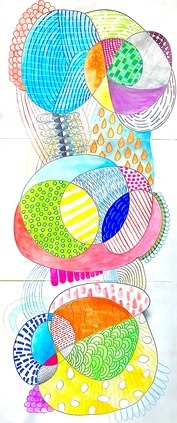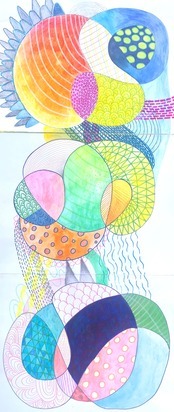 Trager: My capstone project encompassed two large-scale installations, titled "Looping Thoughts, Empty Prayers" and "Shared Air". Both of my pieces explored the concepts of consciousness, isolation, and multiple realities through the mediums of sculpture, assemblage, and installation.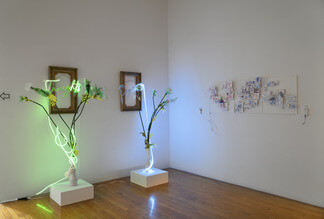 Take a virtual tour of the "YOU ARE HERE" exhibition
What are the steps you took in order to launch your group exhibition?
Raz: The process started by selecting and refining our individual capstone projects, which entailed a body of work we had created over the course of the program. After that, we planned the logistics and layout for the group capstone exhibition using a digital floor plan of the Macy Gallery. The last few steps involved transporting our work to the gallery and installing it.
Trager: There were courses throughout the program that served as milestones in our capstone experience. We also got guidance and support from faculty at every step of the process, from planning what we wanted to show and digitally plotting logistics to preparing images and learning how to physically install our work.
How did you collaborate with your cohort during the program and the capstone experience?
The connection we built as a cohort was really organic. We grew closer to each other over the course of our virtual classes and cultivated an incredible community where we were able to share resources and ideas about teaching and artmaking. I still come back to these conversations from time to time.

Raz
Trager: By the time the Summer Residency came along, we were familiar with each other's work and it became easy for us to imagine how the capstone might come together. And when it came to putting the exhibition together, everyone was so generous with offering their time and support. Someone in my cohort actually picked me up and drove me to the gallery with my work, since I don't have a car.
Learn more about the Summer Residency
Why do you find it important to nurture your own art practice regularly?
Making art keeps me in touch with the whole reason I teach at all — it's important for me to nurture my own artistic practice regularly so that I feel the passion and spark of making art and can pass it on to the students I teach. The program gave me a structure to make my own artwork, even within my busy day, and that has reinvigorated my teaching.

Raz
Trager: I've realized that feeding my art practice allows me to expand the possibilities of what my work can grow into. That's why I find it important to create art and learn new things every day.
What makes the experience of showcasing an art exhibition valuable?
Raz: There's inherent value in exhibiting artwork in a community since it allows you to cultivate artistic confidence and skills. And I can impart the skills that I learn to my students, so that they have the tools to pursue opportunities and put their work out in the world.
Putting together an exhibition gives you endless opportunities to boost your artistic development, whether that means connecting with other artists or learning a new skill. Being able to photograph two large-scale works together in the capstone exhibition has already opened the doors to new collaborations in my own art practice.

Trager
Do you have any advice for students who are putting on their first art exhibition?
Raz: Make sure you have a plan in place and communicate with all of the artists showcasing work in the exhibition. Take time to contemplate how the pieces will converse with each other in dialogue with the space.
Trager: I would encourage students to put thought into the fragility of their work. I wish I had considered how easy it would be to transport my pieces at the start of the capstone process.
---
About the M.A. in Studio Practice for Art Educators (Hybrid) from Teachers College, Columbia University
The Teachers College M.A. in Studio Practice for Art Educators (Hybrid) program combines the best elements of a traditional studio master's or M.F.A. program with the educational component of an art education program. The degree was designed to give students the space, time, community, and feedback to continue to grow as professional artists and art educators. As a hybrid program, the M.A. in Studio Practice for Art Educators allows students to learn online during the academic year and spend immersive Summer Residencies in New York City. During these six-week residencies, students have the opportunity to connect with our internationally renowned faculty and bond with their fellow cohort of artists.
Request Information
To learn more about the Master of Arts in Studio Practice for Art Educators (Hybrid), offered by Teachers College, Columbia University, fill out the fields below to
download a brochure.
If you have additional questions, please call
(877) 251-1533
to speak with an admission counselor.