Ashley Mask
---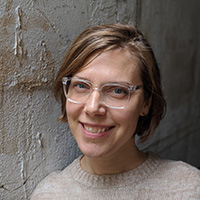 Adjunct Assistant Professor, Teachers College, Columbia University.
aam2226@tc.columbia.edu
444 Macy
Ashley Mask is an artist, art museum educator, and instructor who engages with a variety of museum audiences including K-12 teachers and students, university students, and people with disabilities. She currently works as a museum educator at the Metropolitan Museum of Art and serves as a co-editor for Instructional Resources in the journal Art Education. Her doctoral research centered on novice art museum educators and their experiences upon entering the field. Prior to beginning her doctoral work, Ashley led the education departments at the Rubin Museum of Art in New York City and the Boulder Museum of Contemporary Art in Boulder, Colorado. She has taught museum studies, museum education, photography, and leadership studies courses at several universities, and she has worked with a variety of community organizations and arts commissions as an evaluator, researcher, and organizer. She holds an EdD from the Art and Art Education program at Teachers College, an MSEd in Leadership in Museum Education from Bank Street College, an MFA in Photography from the University of Delaware, and a BFA in Sculpture and Photography from the University of Montevallo.