International Admission Requirements
---
We welcome international applicants!
In addition to the standard application documents described on the main Admission page, international applicants may be required to submit a transcript evaluation and an English proficiency exam, depending on where they completed their bachelor's degree. Please review the main admission requirements and the information below before you apply to the M.A. in Studio Practice for Art Educators (Hybrid) program.
To be eligible for admission, international applicants must hold the equivalent of a 120-credit U.S. baccalaureate (bachelor's) degree.
All applicants, especially those applying for a visa, are expected to collect and prepare international educational credentials well in advance of the application deadline. The application deadline for applicants who will require a visa to attend TC is February 1, 2021. Incomplete records will not be reviewed.
Do NOT submit bank statements, proof of funds, or photocopies of passports with application materials. No financial documents are required until students are admitted and applying for visas.
Any documentation not issued in English must be accompanied by a notarized English translation.
---
International Transcripts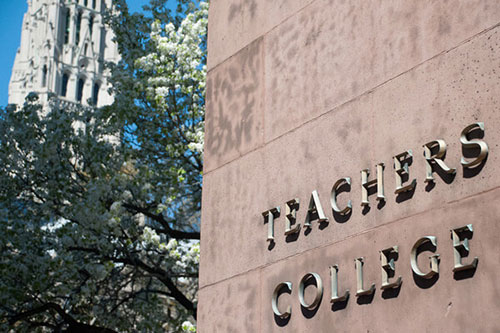 All transcripts from institutions outside the United States require a course-by-course evaluation. We accept evaluations from these agencies:
WES and ECE provide several types of evaluations. Select the course-by-course evaluation option to ensure your evaluation meets our requirements for admission review.
Once submitted to Teachers College (TC), the evaluation becomes an official academic record and the sole property of Teachers College.
Evaluations will be reviewed by Teachers College administrators and the determination of degree equivalency to U.S. degrees is at the discretion of TC.
---
English Proficiency
If you received your baccalaureate (bachelor's) degree from an institution where English is not the official language of instruction, you must submit official results from the Test of English as a Foreign Language (TOEFL) or IELTS English Language Test. These scores must be sent directly from the testing agency and must have been taken within the past two years to be considered official.
---
Visa Information
If you require a student visa to attend Teachers College, you will be provided with instructions and information after you have been officially admitted.
Do NOT send bank statements, passport copies, or other visa related documents to the Office of Admission.
We strongly encourage you to apply for admission as early as possible to provide time for visa processing. Please carefully review the admissions deadlines on the main Admission page, and contact the Office of International Students & Scholars for more information on the visa application process.
International students in this program are only eligible for visas for the summer session, when the in-person residency takes place. They are not eligible for visas in fall or spring, when courses are online and can therefore be completed from students' home country.
International students are eligible for summer visas only if they register for a full time load in summer (3 credits in Summer A and 7 in Summer B). Students who register for less than 10 credits across both summer sessions will not be eligible for visas.
Even though the in-person residency is in Summer B and not Summer A, international students registered for a full summer load are eligible to receive visas for the entire summer.
Request Information
To learn more about the
Master of Arts in Studio Practice for Art Educators (Hybrid)
(MA-AESA) at Teachers College at Columbia University, fill out the fields below to
download a brochure
. You may also call us toll-free at
(877) 251-1533
to talk with one of our admission counselors.